Posted on | November 21, 2016 | No Comments
tan bonito ese el momento en el que una idea te cruza en la cabeza y la escribes y te sale un relato. tan bonito ese el momento en el que sigues tramando y de pronto el relato se vuelve cuento. tan bonito ese el momento en el que lo llevas a tu taller y los comentarios te ayudan a descubrir sus debilidades y sus potenciales.
tan bonito ese el momento en el que enmedio de la noche, enmedio de la nada, te viene un destello y te das cuenta de que ese que tienes entre manos puede ser una novelita corta para entretenerte en el invierno.
tan bonito todo eso.
Posted on | November 14, 2016 | No Comments
Me casé con un veterano que aún sufre las consecuencias médicas y económicas de su baja. Tengo un hijo de 17 años que cursa el último año de preparatoria y vive el estrés de las solicitudes para estudiar la universidad. Soy residente de este país al que emigré hace seis años. Los tres somos de origen hispano. Los tres hemos pasado los últimos días discutiendo y obligándonos a bromear sobre el panorama tras las elecciones.
Ninguno lo dice, no abiertamente, pero en los tres flota la pregunta ¿y ahora qué?
Entre el sábado y el domingo pensé que tal vez era hora de volver al terruño. Anoche me dije que no, que ahora más que nunca hay que quedarse aquí. Esta mañana mi alma tiembla mientras adjunto documentos para solicitar, de nuevo, una otra situación laboral. Quería apostarle a todo y ver dónde pegaba el chicle. Ahora, ni chicle quiero mascar.
Es tan raro lo que siento, no es miedo pero se le parece.
Posted on | November 12, 2016 | No Comments
Mothers are the women who birth us, but also the women who raise us, who compel us to stand up, who teach us that kindness and strength are not mutually exclusive; our sisters and friends, the women who guide us, who lend us their dresses and coats, and teach us to sew our histories, to embrace imperfection in messy cross-stitch. Stitching, much like motherhood, is storytelling.
Stitching Motherhood, Laura Maw
Posted on | November 9, 2016 | No Comments
I feel hopeless right now. I am incredibly disappointed, but I cannot wallow in these feelings for long. I will not. The world will not end because of a Trump presidency. Tomorrow, the sun will rise and the day will be a lot less joyful than I imagined, but I'll get through it. We all will.
But I also know that the most vulnerable among us will now be even more vulnerable because there are now too few checks and balances to executive power, given the Republican-controlled legislature.
Where do we go from here? That is the question many of us will be trying to answer for the next while. For now, we need to breathe, stand tall and adjust to this new reality as best we can. We need — through writing, through protest, through voting in 2018 and 2020 — to be the checks and balances our government lacks so that we can protect the most defenseless among us, so that we can preserve the more perfect union America has long held as the ideal. We have to fight hard, though I do not yet know what that fight looks like.
Posted on | November 6, 2016 | No Comments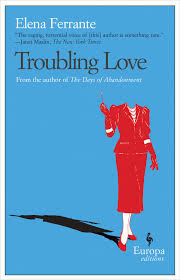 When one enters the house of a person who has just died, it's hard to believe that it's deserted. Houses don't have ghosts, but they contain the effects of life's final gestures. First I heard the rush of water from the kitchen and for a fraction of a second, with an abrupt torsion of the true and the false, I thought that my mother wasn't dead, that her death had been merely the subject of a long, painful fantasy that had begun in some long time ago. I was sure that she was in the house, alive, standing at the sink, washing the dishes and murmuring to herself. But the shutters were closed, the apartment was dark.
Elena Ferrante, Troubling Love
Posted on | November 4, 2016 | No Comments
estoy tomando una clase en línea de la universidad de iowa. decidí hacerlo un poco por ocio, pero qué vuelta me han dado estas sesiones semanales. mi curso es de narrativa y narradoras. hay videos, discusiones, tareas. todo lo que una necesita para activar el chip de la ficción.
mi chip de la ficción se activó al 200% hoy cuando en su sesión, Angela Flournoy dijo que escribir una novela desde múltiples perspectivas es como hablar de los cuatro estómagos de las vacas. cada estómago tiene su propia función. los personajes -sin importar cuántos sean- deben tener cada uno una función ética y estética específica si no, el lector se indigesta.
pienso en una vaca. pienso en sus estómagos. pienso en sus voces.
Posted on | October 26, 2016 | No Comments
soy mi mamá cuando el hijo llega a casa agotado, se acuesta a mi lado, se queja de algo y le digo: "ay, hijito." soy mi mamá cuando voy manejando y haciendo un mapa mental de todo, absolutamente todo, lo que haré al llegar a casa. soy mi mamá cuando en un periódico veo una receta que me interesa, la recorto, la guardo en mi carpeta de la escuela a sabiendas que si tengo suerte la pegaré o copiaré a mano en algún lado, pero muy probablemente nunca la prepare.
debería ser mi mamá cuando me atoro y sigo hablando o escribiendo cuando en realidad el silencio es lo mejor. debería ser mi mamá cuando todo lo veo gris rayándole a negro. debería ser mi mamá y detenerme a mí misma cuando estoy a un paso del autosabotaje.
pero no soy.
soy yo, con rasgos o cosillas varias de ella y otras muchas que yo misma he construido, vicios, hábitos, habilidades, necedades.
soy yo.
yo.
Posted on | October 25, 2016 | No Comments
me leí Los Afectos de Rodrigo Hasbún en menos de dos días. una novela coral. una novela sobre una familia. una familia que es, no hay duda, tema para una novela. pensé en una novela, una mía, una que no he hecho y que no sé si vaya a hacer pero no importa, me basta con pensar. me gusta cuando ocurre esto. me gusta cuando leo y disfruto y pienso y algo se mueve.
algo.
keep looking »