Posted on | April 26, 2015 | No Comments
As will be gathered from these notes of mine, I am the sort of person who approves of what others abhor and detests the things they like.
—Sei Shonagon, The Pillow Book, circa 1000 AD
Clearly, if Sei Shonagon had had access to the Internet, she would have had a weblog instead of a Pillowbook.
—Ruth Ozeki, Weblog, circa 2000 AD
Posted on | April 25, 2015 | No Comments
y yo pensaba en chacras. pensaba en sílabas. pensaba qué bonitas son las sílabas. qué bonitas son las vocales. pensaba, ¿qué haríamos si no tuviéramos la letra e? pensaba en mi mamá. pensaba en mis abuelas. pensaba otra vez en qué bonitas son las vocales. pensaba en las realidades. pensaba en el aquí y en el ahora. pensaba en los lazos que hay que romper. pensaba en la carta esa del tarot, la XIII, el arcano sin nombre. fue un viaje largo, un viaje de dos días. un temazcal casero. fue un sueño. pensé por un momento en que primero llegó Lila, luego Lucía, ahora Lola. Maestras todas, guías, guardianas. fue un viaje largo, pero ya regresé.
Posted on | April 23, 2015 | No Comments
I don't think of Eve as a twat that got tricked by a snake. I think Eve was badass. I think she showed Adam what to do with his dick, and without her, he'd be sticking it in knotholes and goat butts and suckerfish. Without Eve? Adam's just a guy standing around with a dick in his hands.
Dora: A Headcase, Lidia Yuknavitch
Posted on | April 18, 2015 | No Comments
Generalmente cuando el semestre ha acabado, cuando todo está calificado y entregado, me enfermo. El cuerpo lo suelta todo. Pero en esta ocasión, a los cuarentialgo el cuerpo hizo lo que le dio la gana y heme encuartelada entre tos, dolor de oídos y de garganta. La tos me hace pensar, casi casi desear, esas pastillas de broncolin que mi mamá me daba. Cómo las odiaba yo, pero las odiaba menos que el limón quemado con azúcar o las cucharadotas de miel con limón. La tos me hace pensar en mi madre, la tos me hace un bicho frágil.
Mis ojos lloran y yo también.
Un traguito de té verde, un capítulo de un programa menso, varios capítulos de una novela poderosa y un poema de Emily Dickinson, ese el de las plumas. Si eso no me alivia hoy, nada más lo hará. Porque ni mi madre ni el broncolín están, tampoco el limón quemado ni la miel con limón. Pero estuvieron, y el recuerdo, pum, quitó un ataque de tos.
Posted on | April 15, 2015 | No Comments
"In college, when I studied Hegel, I was struck by his explanation of the use of death by the state. Hegel argued that death is used as a threat to keep citizens in line. The minute you stop fearing death you are no longer controlled by governments and councils. In a sense you are no longer accountable to life. The relationships embedded between the "I" and the "we" unhinge and lose all sense of responsibility. That "you," functioning as other, now exists beyond our notions of civil and social space."
Claudia Rankine, Don't Let Me Be Lonely
Posted on | April 14, 2015 | No Comments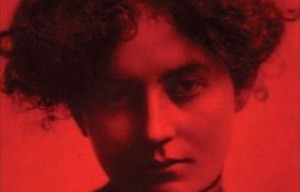 this is mary maclane. in 1902 she was nineteen years old and wrote a book that shook the earth, or at least Butte Montana because once published her book was banned of her town's bookstore.
this is mary maclane, the woman who once claimed: "Had I been born a man, I would by now made a big impression on the world."
this is mary maclane, a writer who knew how to.
Posted on | April 13, 2015 | No Comments
as if I had nothing to do, nothing to grade, nothing to write, nothing to clean, nothing to cook, here I am on a Monday afternoon fucking reading the last chapters of a 400 pages book titled The Forgotten Girls by Sara Blædel.
She is my new Agatha Christie.
She is my new reason to do nothing but read.
Damn you Blædel, let me grade, write, clean, cook, live!!
Posted on | April 12, 2015 | No Comments
entramos al temido y entrañable final de temporada. últimas semanas de clases. últimos proyectos. exámenes finales. cierre de grupos. una pausa a la docencia antes de darle la cara a los cursos de verano.
también estamos en final de temporada del año novelesco. mi serie coming out está terminada en un 70%, entiéndase: cuatro libros revisados y entregados, un libro a mitades y otro en la cabeza marinándose. es increíble pensar que de agosto a este día he escrito más de seiscientas páginas en inglés narrando las aventuras de adolescentes que se las ven duras para asumir su sexualidad en un universo que no deja que nadie asuma nada.
entramos también, a una etapa de comerse un poco las uñas, estamos a la espera de respuestas que nos dirán que sigue en la vida de esta nuestra pequeña familia. no importa si nos dan un sí o un no, importa que queremos saber ya loquesea para hacer la logística necesaria.
los finales de temporada tienen eso, un gusto agridulce, pero un gusto a fin de cuentas.
keep looking »