Posted on | May 22, 2015 | No Comments
Posted on | May 22, 2015 | No Comments
"You guys talk and laugh as if you were friends, not sisters, what's wrong with you?" That's what my youngest niece said the other day after hearing my sister and me laughing our asses off at some silly thing. None of us said a thing, none of us was able to explain the little one what it was. But her question has been on my mind ever since? "What's wrong with us? What's wrong with us?" And then after thinking about it for a while I decided what is "wrong" with us (yes, with quotation marks).
What's "wrong" with us is that:
We were born almost 15 years apart.
We were raised in different ways.
We barely lived together, therefore we barely knew each other enough to fight, yell, pull each other's hair.
We were far from each other too long, for reasons there's no point discussing now.
We've been through a lot this past year, well she's been through a lot the last many couple of years.
We need each other, we are all we have in terms of blood-related-family.
We need to laugh, we need to talk.
We need each other, we need each other, we need each other.
So, yesterday I took my sister to get pedicures. We pampered ourselves, we watched silly tv shows and we laughed. At night my sister held me tight and cried on my shoulder, for the pedicure, for the day, for the life, for my being here.
There's nothing wrong with us, period.
Posted on | May 18, 2015 | No Comments
Tengo una hermana que trabaja en una ong que ayuda a mujeres víctimas de violencia. Tengo una sobrina que estudia medicina. Tengo un sobrino que escribe cuentos formidables y será un gran profesor. Tengo una sobrina que se mueve como princesa pero piensa como intelectual. Tengo otra sobrina que aún está buscando su yo, se viste de negro, asombra en cada frase pero dentromuydentro es una pequeñita dulce que no quiere parecerlo. Tengo otro sobrino que vive en otro rincón de este país, el mathemagician lo llamo secretamente porque es brillante con los números.
Tengo pues una familia en este otro país que tampoco es el nuestro pero que se ha vuelto el suyo. Tengo lazos que unir, historias que contar e historias que escuchar. Tengo. Tengo. Tengo.
Posted on | May 16, 2015 | No Comments
hoy, madre, hago el vuelo que te  prometí. hoy, madre, tomo dos aviones hacia el norte. hacia el otro país. hacia esa la canadá. hoy, hoy veré a tu hija. hoy veré a mi hermana. hoy compensaré doce años sin acariciarle la mejilla. es como tomar tu lugar, es como si todo ese amor que por ella sientes (sí, madre, sientes) lo hubieras depositado en mis manos aquella noche en el hospital, cuando te ibas y no, para que yo se lo entregara personalmente. estoy nerviosa, estoy emocionada, estoy en ese hilo entre la risa y la lágrima. pinche hilo.
volar, volar y estar un poquito cerca de ti. volar y estar cerca de ella. volar y ser la unidad que tú tanto deseabas.
Posted on | May 15, 2015 | No Comments
"I beheld and still behold in anger and agony the eagerness of the world to throw piles of shit on those of us who want to savage or simply cannot help but savage the norms that so desperately need savaging." 
The Argonauts, Maggie Nelson


Posted on | May 13, 2015 | No Comments
we went biking tonite, but tonite was different. tonite there was silence and the train. the train and silence. just a few cars. just a few people around. we went on rio grande. started on oregon up to piedras. turn on montana, up to kansas. we did the trip we wanna do in a car. we just didn't talk about it. tonite it was all about the silence and the train and the nite and the bking.
Posted on | May 10, 2015 | 1 Comment
porque te extraño. porque te pienso. porque estás en mí todos los días. porque me enseñaste tantas cosas. porque eres mi madre aún cuando no estás aquí.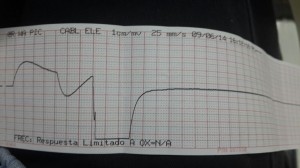 Posted on | May 6, 2015 | No Comments
en las últimas dos semanas escribí dos cuentos. es como mucho considerando que las dichosas novelas del proyecto maratónico se roban todo mi tiempo y mi creatividad. pertenecen a lo que se le llama escritura por encargo, es decir alguien te dice, oye escríbeme un cuento de… y entonces una que es una fácil, una que ama el reto, dice que sí. la escritura por encargo requiere investigación, requiere ganas, ingenio, mucho ingenio. a veces se alcanza y a veces apenas se le rasca en el intento. yo no sé, pero al menos uno de los dos cuentos por encargo de estas las últimas dos semanas, me late, es un cuento que alcancé. el otro, el otro creo que sólo lo rasqué. o a lo mejor estoy en plan pesimista, no sé. el caso es que escribí dos cuentos por encargo y siento que ya así cierro la primera temporada del 2015.
fin del comunicado.
keep looking »