Posted on | April 15, 2015 | No Comments
"In college, when I studied Hegel, I was struck by his explanation of the use of death by the state. Hegel argued that death is used as a threat to keep citizens in line. The minute you stop fearing death you are no longer controlled by governments and councils. In a sense you are no longer accountable to life. The relationships embedded between the "I" and the "we" unhinge and lose all sense of responsibility. That "you," functioning as other, now exists beyond our notions of civil and social space."
Claudia Rankine, Don't Let Me Be Lonely
Posted on | April 14, 2015 | No Comments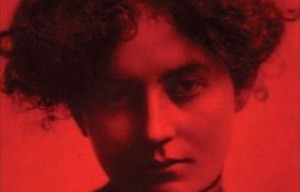 this is mary maclane. in 1902 she was nineteen years old and wrote a book that shook the earth, or at least Butte Montana because once published her book was banned of her town's bookstore.
this is mary maclane, the woman who once claimed: "Had I been born a man, I would by now made a big impression on the world."
this is mary maclane, a writer who knew how to.
Posted on | April 13, 2015 | No Comments
as if I had nothing to do, nothing to grade, nothing to write, nothing to clean, nothing to cook, here I am on a Monday afternoon fucking reading the last chapters of a 400 pages book titled The Forgotten Girls by Sara Blædel.
She is my new Agatha Christie.
She is my new reason to do nothing but read.
Damn you Blædel, let me grade, write, clean, cook, live!!
Posted on | April 12, 2015 | No Comments
entramos al temido y entrañable final de temporada. últimas semanas de clases. últimos proyectos. exámenes finales. cierre de grupos. una pausa a la docencia antes de darle la cara a los cursos de verano.
también estamos en final de temporada del año novelesco. mi serie coming out está terminada en un 70%, entiéndase: cuatro libros revisados y entregados, un libro a mitades y otro en la cabeza marinándose. es increíble pensar que de agosto a este día he escrito más de seiscientas páginas en inglés narrando las aventuras de adolescentes que se las ven duras para asumir su sexualidad en un universo que no deja que nadie asuma nada.
entramos también, a una etapa de comerse un poco las uñas, estamos a la espera de respuestas que nos dirán que sigue en la vida de esta nuestra pequeña familia. no importa si nos dan un sí o un no, importa que queremos saber ya loquesea para hacer la logística necesaria.
los finales de temporada tienen eso, un gusto agridulce, pero un gusto a fin de cuentas.
Posted on | April 9, 2015 | No Comments
"Sad is one of those words that has given up its life for our country, it's been a martyr for the American dream, it's been neutralized, co-opted by our culture to suggest a tinge of discomfort that lasts the time it takes for this and then for that to happen, the time it takes to change a channel. But sadness is real because once it meant something real. It meant dignified, grave; it meant trustworthy; it meant exceptionally bad, deplorable, shameful; it meant massive, weighty, forming a compact body; it meant falling heavily; and it meant of a color: dark. It meant dark in color, to darken. It meant me. I felt sad." 
Claudia Rankine, Don´t Let Me Be Lonely: An American Lyric


Posted on | April 7, 2015 | No Comments
Daily life is full of conflict, climax, and resolution. Even the most mundane life can make for a wonderful novel—just ask Emma Bovary. It's the tiny matter of transferring life to the page that separates a potential book from a finished one, the self's book from the reader's, memory from art.
Behind every written book are the unwritten memories that led to it, that much longer book no one ever reads. That diary.
Joseph Riippi dixit.
Posted on | April 6, 2015 | No Comments
No more mother to sit with me until I fall asleep. At night I sometimes put a chair by my bed to keep me company. When you have no mother you make do with a chair.
Albert Cohen, Book of My Mother
Posted on | April 2, 2015 | No Comments
One of his signature expressions was "I am not afraid." That day, after being called faggot by dozens of screaming children, Jesse positioned me in front of the mirror. He taught me to make wide circles with my arm. Three circles and a snap, he said. Snap on the word not. "I am not (snap) afraid."
I practiced over and over.
"Let the children hear you," he said.
When I went home, I stood in front of the mirror. I snapped and snapped and snapped. I snapped for my parents, who thought it was a beatnik thing. I snapped for my white friends, who thought it was funny. I snapped for my black friends, who gave me advice on how to snap even louder- how really scare people when I snapped. Because that was the purpose.
Kirk Read, How I Learned to Snap
keep looking »