Posted on | January 23, 2015 | No Comments
 "I'm the virtuous / I'm the blamed / I'm the yearnin / I'm the grave / I'm the lost cause / I'm the slave /  I'm the tired / I'm the fat-ass / I'm the coward / I'm the bombast / I'm the preacher / I'm the dog / I'm the chickenhead / I'm the hog / I'm the pilot / Of this plane / Better drive it / Past the sugar cane / Past tobacco / Past Colt 45 / Past the bling / Past the shuck & jive // Evolution // I'm the fallen / I'm the first / I'm the burden / I'm the has-been / I'm the shallow / I'm the deep / Steady walkin / In my sleep / Oh I'm greedy / Oh I'm starved / Always singin / Steady marchin / I am a band / Of Africans // Evolution"
Monk Eats an Afro, Yolanda Wisher
Posted on | January 20, 2015 | No Comments
So far, the only plan I've come up with is writing. I can write, because writing -unlike choreography, architecture, or conquering kingdoms- is a thing you can do when you're lonely and poor, and have no infrastructure, i.e., a ballet troupe or some cannons. Poor people can write. It's one of the few things poverty, and lack of connections, cannot stop you doing.
I am currently writing a book, in the endless, empty hours of the day. It's about a very fat girl who rides a dragon around the world and through time, doing good deeds. The first chapter is about her going back to 1939 ad making Hitler see the error of his ways, via a very impassioned speech, and cry.
Caitlin Moran, How to Build a Girl
Posted on | January 18, 2015 | No Comments
Mi gol este año es leer 60 libros. El año pasado leí 50. Nunca antes me había dado por contar los libros que leo al año y mucho menos ponerme retos anuales pero con Goodreads todo se puede. El punto es que he aquí mi lista enero-marzo de novelas con un tema en común: personajes femeninos sacalaspistolas. Los tachados ya me los eché o estoy a mitades, los otros van por orden de curiosidad.
The Gloria Anzaldúa Reader de AnaLouise Keating
How to Build a Girl de Caitlin Moran
We Are All Completely Beside Ourselves de Karen Joy Fowler
Cuando las Palomas Cayeron de Sofi Oksnanen.
Reason She Goes to the Woods de Deborah Kay Davies
The End of Days de Jenny Erpenbeck
Brown Girl Dreaming de Jacqueline Woodson.
Broken de Daniel Clay
All my Punny Sorrows de Miriam Toews
The Girl with The Dragon Tattoo de Stieg Larson
Posted on | January 16, 2015 | No Comments
When I write I hover above myself and sometimes I zoom in and out. I am both me and not me, the eye that looks at things is my eye yet another's eye. When I write I am both most myself and least myself. When I write I escape my condition but the writing always takes me back to confront my condition because to write is to live in made up worlds. I write not just to escape reality but to create a new reality. I write because it's my calling, my task to do in the world. I write. It is a ritual, a habit, a propensity bred in my bones. It is what I do. I write because I like to think on paper. I write because I like to think, and to track my thoughts. I write because I want to leave a discernable mark on the world.
Gloria Anzaldúa
Posted on | January 14, 2015 | No Comments
It was a deal I'd made with myself months before and the only thing that allowed me to hike alone. I knew that if I allowed fear to overtake me, my journey was doomed. Fear, to a great extent, is born of a story we tell ourselves, and so I chose to tell myself a different story from the one women are told. I decided I was safe. I was strong. I was brave. Nothing could vanquish me. Insisting on this story was a form of mind control, but for the most part, it worked. Every time I heard a sound of unknown origin or felt something horrible cohering in my imagination, I pushed it away. I simply did not let myself become afraid. Fear begets fear. Power begets power. I willed myself to beget power. And it wasn't long before I actually wasn't afraid.
I was working too hard to be afraid.
Wild, Cheryl Strayed
Posted on | January 13, 2015 | 1 Comment
Hoy es el primer día que me siento en mi escritorio a trabajar. Conste que no es el primer día que escribo, en estas semanas he escrito en la cama, en el piso, en cabañas, en el auto, en cafés de Nuevo México y de Texas. Creo que hasta he escrito en el baño. Pero bueno, digamos que he estado algo wild. Tras descubrir el placer de estar afuera, de estar en la montaña, cerca de donde hay árboles y ríos y vida, como que volver al escritorio cuesta.
He leído como loca, ahora estoy picada con un libro de no ficción que se llama Wild de Cheryl Strayed, una mujer que a los veintipocos perdió a su madre, se divorció de su marido y perdió su alma entre tanta tristeza. Cheryl entonces hizo lo que sintió apropiado, lanzarse a recorrer el PCT, el Pacific Crest Trail desde California hasta Oregon a pie. La leo y me muerdo las uñas por lo que le pasa, la leo y me muero de envidia. Yo también perdí a mi madre y yo vivo un matrimonio que va siempre de subida y, sin embargo, me gustaría hacerlo, me gustaría calzarme mis botas, ponerme mi mochila y lanzarme a caminar si no las muchas semanas que caminó Cheryl sí al menos una. Caminar sola, acampar sola, explorar sola, experimentar sola y no pensar si quiera en volver a este escritorio que aunque amo y adoro, me encadena.
Wild, quiero andar Wild.
Posted on | January 3, 2015 | 2 Comments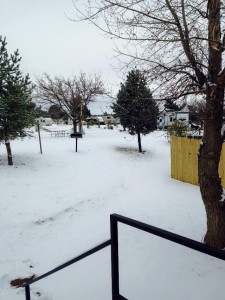 estas fiestas nos fuimos a la playa, empacamos comida, juegos, recuerdos, globos japoneses. estuvimos frente al mar, nos despedimos sin despedirnos de mi mamá y de mi hermano. nos abrazamos, comimos como cerditos, nos reímos como locos. estuvimos luego en la ciudad del sol, me despedí del cuarto de mamá y de la casa de mamá y abracé a mamá. hablé con papá, disfruté a mi hermano y a su familia, compartí a la mía. luego volver a casa, al hijistro, hacer maletas de nuevo y lanzarse a la montaña. jugar con la nieve, caminar a montones, reír, reír, reír.
este diciembre que tanto temía se volvió un mes de amormucho. mi mamá está feliz desde donde nos ve, feliz porque rompimos patrones, feliz porque tomamos decisiones, feliz porque tomamos direcciones.
2014 fue el año del aprendizaje, 2015 será el año del amor y de la familia. he-di-cho.
Posted on | December 19, 2014 | 1 Comment
Estábamos en Silver City, NM. Turisteando, caminando. Yo viéndolo todo, él tomando fotos. Con un poco de frío y un mucho de buen ánimo.
Entonces.
De un callejón vi salir a una mujer algo desgreñada, algo rara, con una piyama puesta y diciendo: "fucking stop, fucking stop following me." Tras de ella un hombre, delgado, largo, largo, con esa ropa que tú sabes que tiene en un cuerpo más de ocho días. Le gritaba, "stop, fucking bitch, stop." Pero ella no se detuvo, siguió y siguió, hasta que él le cortó el camino.
Yo corté mi camino. Barbudo estaba entretenido tomando foto a unas nenitas en patineta, una foto que yo le pedí. Yo ahí, única testigo de un hombre que primero seguía a una mujer, o a su mujer. Única testigo del momento ese en que él la tomó del hombro, la jaló y la empujó después hacia el cofre de un auto.
Fueron unos segundos, unos segundos solamente en que quise voltear con Barbudo y decirle, "mira." Unos segundos nada más en que quise decirle "deténlo." Quise decirle,  "ayúdala."
En cambio.
Me quedé ahí, muda. Frente mí vi una imagen en la que yo decía las palabras esas, mi esposo las oía y se acercaba a defender a la mujer del hombre largo largo. Frente a mí vi una imagen de ese hombre largo largo sacando una pistola y.
Me quedé callada.
Ella se fue, se metió a una tienda y hasta donde yo estaba oí que pedía el teléfono para llamar a la policía. El hombre, el hombre siguió diciendo "fucking bitch" con la pura mirada.
Tuve miedo. Qué terrible, qué terrible es vivir con miedo, un miedo que, en ocasiones, no te deja hacer nada por nadie. Han pasado siete días de todo esto y no me puedo quitar la película entera de mi mente.
keep looking »